Stone Beads from Zimbabwe
by Guy Lynn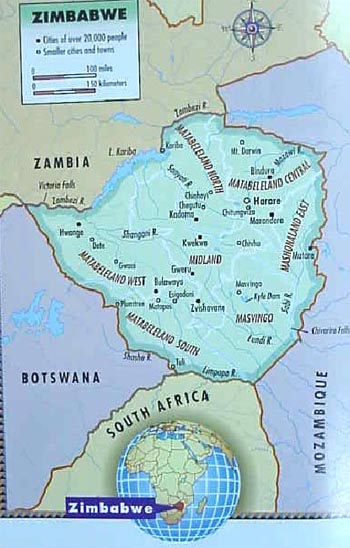 In 1993, Jamie and I traveled to Zimbabwe to visit my family who was still living there, and tour the country where I was born. I hadn't been back since 1980, when I left, and Jamie had never been. She had heard lots of stories from me, but that is not the same as seeing for yourself.
Zimbabwe is in south central Africa. It gained its independence from Britain in 1980, after a 14 year struggle with the white government of Ian Douglas Smith, who had taken Rhodesia (its colonial name) independent from Britain in 1965 when the rest of the colonial countries of Northern Rhodesia (Zambia) and Nyasaland (Malawi) were going black independent. This was known as UDI, the unilateral declaration of independence, and the whole world placed sanctions on Rhodesia, and gave the country three months to survive before surrendering to the black nationalists. Rhodesia survived the initial attacks of 1965, and a period of peace followed until 1974 when the war really began.
I left in 1980 and came to California, where I met and married Jamie 10 days later. We married on the day my visa expired. I affectionately call her "My Green Card Wife".
After 13 years, I realized so much time had flown by, and Africa was calling to me. So off we went. We landed in Johannesburg, South Africa, and drove up into Zimbabwe with my sister and step-brother, who met us at the airport and had a vehicle all arranged. This gave us an opportunity to catch up on all my family gossip with my sister Louise, who I hadn't seen in 13 years either.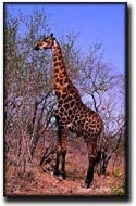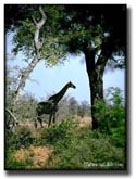 Jamie saw the first wild animal as we approached Bulawayo; a giraffe eating the tops of trees near the side of the road.
One of the wonderful things about Zimbabwe that is different from South Africa is that the wild life is still roaming free, whereas in South Africa it is all kept behind fences in giant game parks.
Bulawayo was just as I had left it 13 years before, except for some minor changes. It was still the beautiful city I remembered, with wide boulevards of purple jacaranda trees lining the sides, and old colonial buildings with 1950 era vehicles driving the streets. Street names had changed, and vegetable venders crowded street corners where they would never have been allowed before.

The bustling market square situated in down town Bulawayo was the same, with street vendors selling everything from wood carvings to baskets, blankets to beaded clothing. It is on the grounds of the City Hall, which is an old colonial building with a clock tower, surrounded by green grass, fountains and colonial era statues. The one thing we didn't find were beads, which we expected to find. Don't beads come from Africa?
As it turns out, the trade beads we all associate with Africa don't come from Zimbabwe. Most trade beads come from Northern Africa, West Africa, Saharan Africa. And those beads are mostly Venetian glass beads from Italy, with some Czech beads thrown in, like the wedding beads from Ghana and Nigeria. Kifa beads are African, and come from Mauritania. But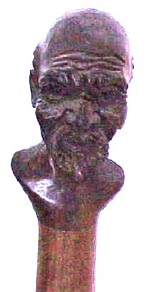 Zimbabwe does not have trade beads. What they do have is bead work like the Zulu beadwork. Several of the stitches that are common in Zimbabwe are made by the local people. One of these stitches is commonly called Ndebele stitch, which is actually the name of the tribe of people. The beaded work is used to make the beaded clothing, doilies, necklaces, etc… that is all over this part of the world. The glass beads that are used are Czech 9/0 seed beads.
We were very disappointed that we could not find any native trade beads, but as we were walking around the market, we had an idea. One man we met was selling wooden walking sticks that he had hand carved, that were incredibly beautiful and intricately made.
Next to him was a man selling stone carvings of animals. They were large carvings, weighing anywhere from 5lbs to 35 lbs, made from the local soapstone or verdite. We asked him if he could take the wooden head of the walking stick and reduce it in size to a small bead, using his stone. He looked at the walking sticks, and got into a deep conversation with the walking stick maker, and then with about eight other men who wandered over to see what all the action was about. After a few minutes, he agreed that he could carve stone beads to look like the wooden heads on the walking sticks, and also reduce his animal carvings to make small beads for us. He agreed to make samples and meet us in a few days to show us his efforts.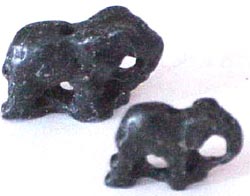 When we saw him next, he showed us his beads, and said it would be possible to mass produce them over the next year. He wanted us to commit to 10,000 beads of a mix of heads, and animals such as rhino, elephant and lion. He said he wanted Z$1 per bead. At that time the official exchange rate was Z$11 for US$1, and we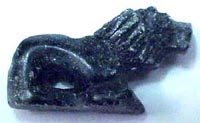 agreed to the deal. He would deliver as many beads as he could before we left to go home to the US, and thereafter would go to my mother's shop in Bulawayo to give her more as he made them and get paid by her once she examined them for quality control.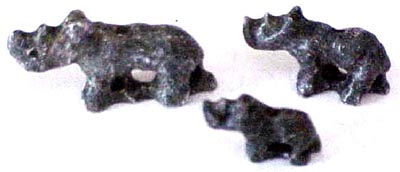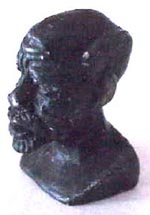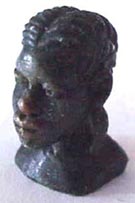 We took delivery of about 1,000 beads just before leaving Zimbabwe, and paid him Z$1,000, which was enough money to allow him to live comfortably for about 2 years. He came by my mom's shop almost every 2 weeks after we had left, to drop off beads, most of which she rejected as bad quality, no holes, or could not identify the shape being presented. He told my mother that he had hired his entire village to help him carve the beads, or dig the rock out of the ground, so he could finish the contract we had. Half way through the year the beads stopped coming, and my mom went out to his village to find him, and she found out he had died of AIDS.
AIDS is the biggest killer in Africa today. In Zimbabwe the infection rate is approximately 85%, and by 2020 90% of the population will be orphaned children under the age of 18.
The saddest part of this story to me is that I didn't record his name, or take his photograph. All I have to remember him is his beads, and the memory.